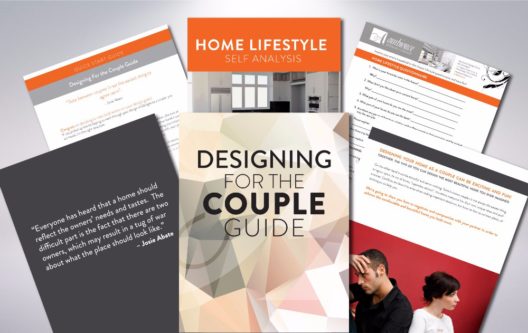 "Taste between couples is not the easiest thing to agree upon" – Josie Abate
Designing your home as a couple can be exciting and fun – on the other hand it can be stressful and nerve-racking. Conflicts are bound to arise when making important decisions.In order to achieve the comfortable and beautiful home you both want, you may have to learn how to negotiate and compromise with your partner. 
With over 25 years of experience designing homes and work spaces for many happy clients, the team of professional designers at Ambience Design Group put together the Designing For The Couple Kit, a friendly and helpful kit for couples who would like to work through your toughest design challenges. Going with this kit,
You will define the style of home that best matches your unique lifestyle as a couple

You will get clarity of how you would like the space to function and look

You will define the elements that matter most in your shared space and how to work together

You will get an 8 step checklist that you can start today

You will learn which colours will work best

You will learn how to compromise on furniture and accessories

You will learn how to create a more restful bedroom

You will discover so many things you never knew about your partner!
THIS KIT INCLUDES:
1. Designing For the Couple Guide
This guide will provide plenty of insight and information about how to go about designing your home as a couple. It will show you the many options you have available when it comes to colour, furniture, and the look of your bedroom. You will get tips on compromising with your partner on the various design decisions to achieve a space you both will love!
2. Home Lifestyle Self-Analysis 
The questions in this detailed Self-Analysis will leave no stone un-turned as you sit with your partner to contemplate the kind of home that will best match up with your unique lifestyle. You'll learn things you likely didn't know about one another and you'll gain clarity on where you both stand in regards to the design of your home.
3. 8 Step Checklist for the Couple
This quick 8 step checklist will give you a good start to your adventures designing as a couple. These simple steps will get you headed in the right direction and spark the momentum of designing a space you both will enjoy!
BONUS:
When you purchase this kit you will receive an exclusive Music Mix to help set the ambience in your newly designed home. Use it for a dinner party or a night in for just the two of you!
This digital kit can be downloaded immediately so you can get started right away.
Go to  https://uwex.co/marketplace/designing-for-the-couple-kit/ and get your kit Now. 


If you don't love your guide, Ambience offers a 30 day money back guarantee.